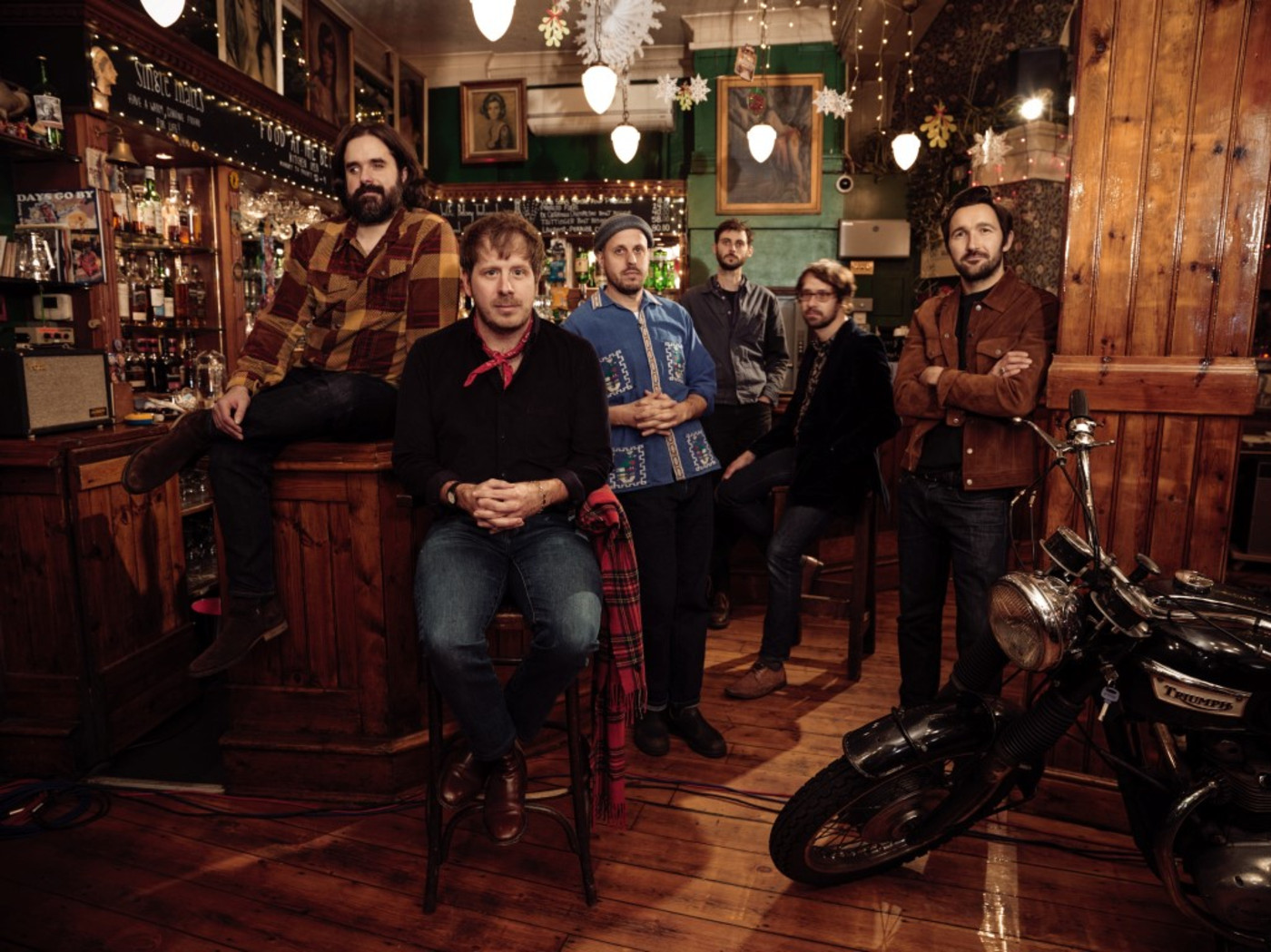 TREETOP FLYERS
It's just over a decade since the London band won the Emerging Talent Competition at Glastonbury, kicking off a run of three Americana-shaded albums that won them – let's not overstate or overinflate anything; that's not their style – a bespoke, passionate fanbase. They're returning with Old Habits, a glorious record that has had the luxury of being finessed into rootsy, rocking perfection by the extra time gifted to them over the past 18 months, the six musicians making the very best of the bad hand we were all dealt by you-know-what. And it's an album that ends with Night Choir, a thoughtful, soulful, Khruangbin-meets-Kiwanuka reflection on the highs and lows of living in London, the city in which they've weathered the pandemic and the city that's hometown to all of the band members.
It's also the sound of a band, led by a deep-thinking, big-melody frontman, re-emerging around the 10-year anniversary of the passing of his dad.
Old Habits, then, with its invigorating mix of classic British rock'n'roll, Celtic soul and country blues, is an album that is meant to be in the ether right now – and not last year which, if all things hadn't passed, was Treetop Flyers' original plan.
"Totally," affirms Morrison. "That's what I truly believe in. I'm really into that way of thinking, and it makes being part of the world easier. I went to see the George Harrison 50thanniversary floral tribute in Kings Road in the summer. And that was so interesting because I spent years doing therapy in that square – and here I am looking at All Things Must Pass now. It's more than just an album or a title. It's a phrase with meaning, and I got a ring made in lockdown with 'All Things Must Pass' engraved on it.
"And with that, I also got back into Harrison from the perspective of how he used his spirituality to make sense of certain things. That was useful to me, too. So, yes, the album coming out now makes complete sense to me."
Going into the album, Treetop Flyers – Morrison (vocals, guitar), Laurie Sherman (guitar), Sam Beer (guitar), Rupert Shreeve (drums), Ned Crowther (bass), Geoffrey Widdowson (saxophone), along with guest keyboard player Richard "Dickie Fingers" Caulson – knew what they wanted to do.
"A couple of years ago I had a bit of a moment in life when I got really into yoga, meditation and all that stuff – yeah, like everyone is doing now!" Morrison laughs wryly.
"Then, I love Rod Stewart and I love The Faces. And Van Morrison is one of my heroes. So we thought:why don't we try and do something like that, a British take on the rock'n'roll? Because previously we've been seen as Americana, Sixties, California, whatever – and those references I totally get. But there's some amazing British rock'n'roll records that barely get talked about. So let's have that as our rough aim.
That also meant doing things as live as possible, and as "downhome" as possible. Luckily, Treetop Flyers have the luxury of The Cube, their own studio, a perfectly formed space at the back of some picture-framer friends' workshops in Hackney, northeast London. So, yeah, you could say The Cube is a wood shed in which to woodshed.
Which was useful because, as Morrison points out, a fair few people think that some of what Rod the Mod and Van the Man did in the early Seventies "was really simple. But it's actually not. And when we get in a room, we can actually have a good crack at that, and spend time doing it."
Beginning at Easter 2019, Treetop Flyers started live tracking their new songs, "and we went back and forth for ages. It was good but we really wanted to get the sounds down.
"So that was all done by the end of 2019, and the plan was to get it mixed and have it out in summer 2020. Then obviously the world stopped, and I thought: for the band, this could work to our benefit. Because we'd rushed the third album and I listen back now and hear some good bits, but it could have been more cohesive. So having the time, in our studio, under Covid working restrictions, was a luxury, being able to go through it all with a fine-tooth comb."
As the six musicians worked, they were keen to maintain "a live feel, rather than something bitty". That meant putting in the hard yards to find the sweet spots. Guitar player Sherman, in the producer's chair as he was on the band's 2018 self-titled third album, "got very pernickety. Which was good, it worked out in the end, but we had to go through the annoying-ness of him going: 'That's not good enough, not good enough…' I'm like, 'fucking hell, dude!'" smiles Morrison. "But it was exactly the right thing to do."
Also the right thing to do: make the album entirely on their own. "Because everything else stopped, we didn't have to let anyone else hear it, so were just working on our own, at our own pace. There was no pressure."
Instead, all the focus and energy could be poured into the songs. It's there front and centre in Cool Your Jets, a stompy, piano-and-sax-blown rocker that wouldn't sound out of place on A Nod Is As Good As Wink.
"Live, much as we go to our gigs thinking, 'let's be chill, let's keep it calm', the amps inevitably go up and we just go for it. It's the same in our little room. But you think about The Faces live – they must have been so loud! Their concert at 100 Club must have been insane," he says of the band's legendary 1970 gig.
"The song is about someone who has mega anxiety," the songwriter continues, "so it's about telling them to cool down – while having some fun with it. Rupert has a motorbike so we went outside and recorded it. It's important to have fun as well as being serious."
Opening Old Habits is Golden Hour. It's the perfect on-ramp for the album: a lovely, stately, swelling intro, then Morrison's soulful rasp slides in. By the time the killer riff comes in, all the senses are tingling.
"That intro wasn't originally on the song. And at first I thought it sounded a bit like The Lion King!" he cheerfully admits. "But the song began when I was on my roof one day. I love a sunset and, the sky was pinky-orange, and as I was reflecting on the day, I had this feeling of the world shutting for the day – cheers, and see you in the morning. And these chords just came."
As he puts it, those ideas "just coming" were of a piece with his lyrical mindset – Morrison felt he had things to say "about the stage I'm at in life". That notion underpins the title track, a song which could be on The Last Waltz ("we've always wanted to do a song with that Neil Young-style beat – which is fucking hard to do!") or a rediscovered lost classic from Gene Clark's No Other.
As for the title: "We're all getting a bit older, and a few of us have gone through a few different things. And I remember talking to Ned, and he used that phrase: old habits die hard. He was talking about the difficulty of leaving a band he used to be in, but obviously it could apply to all sorts of things: drinking, relationships, whatever. And it just stuck with me – it felt quite poignant in terms of where everyone was.
"I started writing the song when I went on a retreat a couple of years ago, and then when we all started working on it together, it became a bit grander."
As for the lyrics: "That's very much a song about being at a crossroads, you're blossoming, you're growing, you're letting things go, you've seen the world in all its warts and wonders. That's very personal, the journey I've been on the past few years. It's about a moment of clarity and leaving some baggage."
Then there's the rippling, autumnal loveliness of Dancing Figurines, inspired by a box of old letters kept by Morrison.
"One day I had a look inside it and there was one from an ex-. And it struck that I was reading it with a new perspective. It brought up all sorts of emotions, and when I remembered the relationship, it was like we were just dancing around without ever getting to the point. And I was in the shower and the phrase 'dancing figurines' came to me. Then I thought about the stuff we did… It just fell into place, really. A perfect shower moment!
"Then with the band, we had a jam and fell into this classic Fleetwood Mac, very straightforward, just grooving, nothing too complicated, just letting the words and harmonies do their thing."
And on Old Habits flows, shimmering through multiple musical tributaries. River, inspired by a retreat Morrison went on, is an artful tip of the cap to Astral Weeks. One Hundred is a north London take on southern soul, as if Matthew E. White relocated Space Bomb to Stoke Newington. Out The Blue is a modern re-dig of the rich seam of Seventies British folk-rock, as sung achingly by Crowther (who also completed writing the lyrics).
Elegantly opening the curtain on all this is first single Castlewood Road, named after the street on which Sherman lives and where Treetop Flyers mixed the album. It's an easygoing London blues, a tribute to the neighbourhoods and city they all call home. As Morrison puts it, "we're all from London, so we wanted to work up that energy."
These, then, are the new vibes and fresh sounds of Old Habits. It's the album that's truest to Treetop Flyers, as clear and cohesive as they've ever been, "and working to our strengths". And for Reid Morrison, it's the best of the band, drawn from the most challenging of periods.
"The right things came out of my mouth at the right time. For the first time I was like: no, I'm gonna say this. This is me, this is us, this is now."