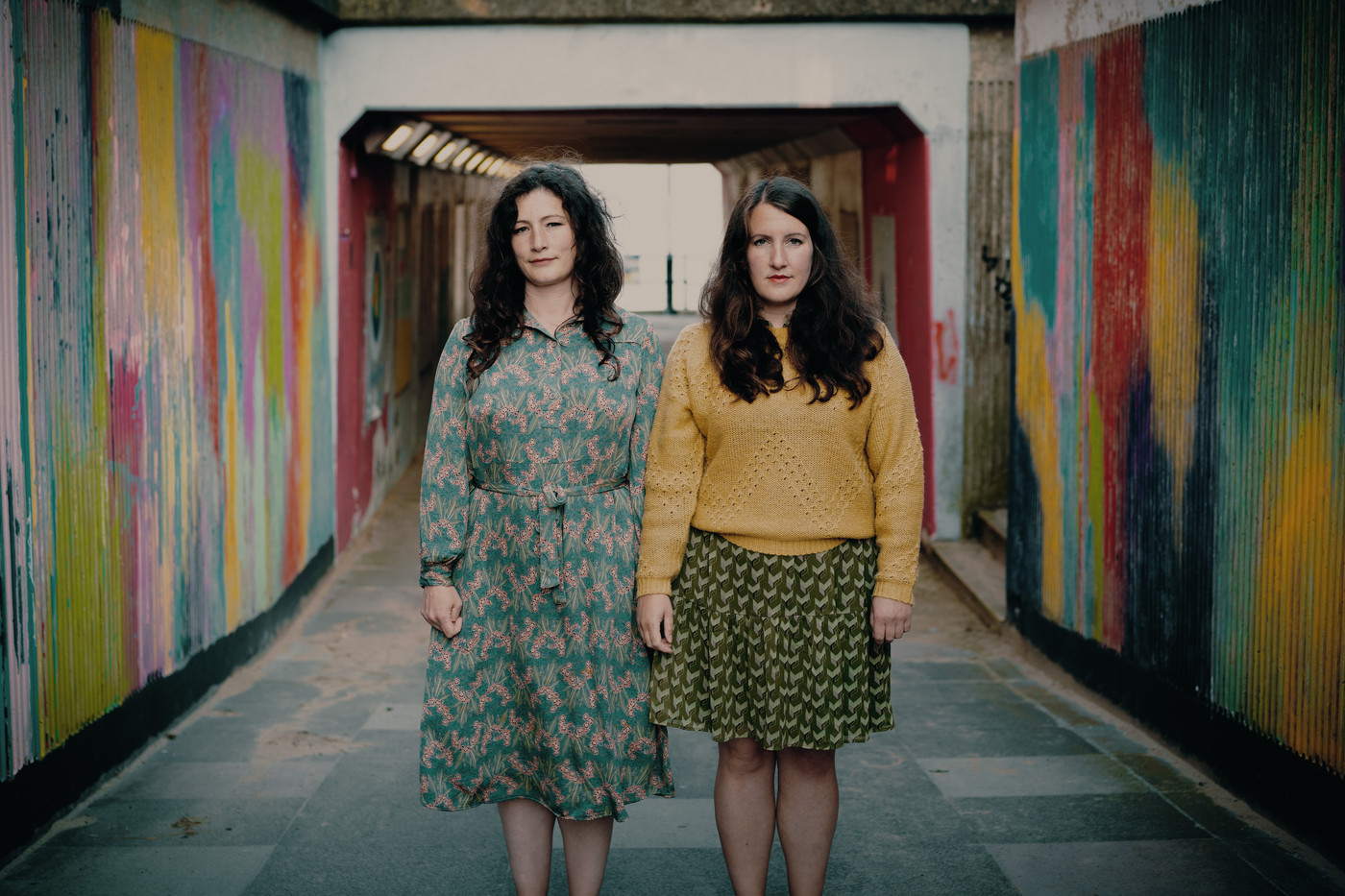 THE UNTHANKS
"They make my heart beat faster, or smile a lot, or cry. I'm glad to be around at the same time as them." Martin Freeman
There are no easy one-liners to capture who or what The Unthanks are.
You might find them singing in a Tyneside folk club one night, and playing to 2000 Londoners the next, having performed to a primary school in the afternoon. You might find them collaborating with Adrian Utley (Portishead) one moment, and writing the score to an archive film about shipyards the next. Or visiting Africa with Damon Albarn, Flea and Joan As Policewoman and then presenting a TV programme for BBC4 about traditional dance. Rubbing shoulders with Robert Plant, Adele, Elbow and Radiohead at the Mercurys, or in a bunkhouse on the coastline of Northumberland cooking for 50 fans on one of their residential singing weekends. Running singing sessions in the back of a pub on a Monday before heading off to tour America or Australia on the Tuesday. Signing licensing deals with EMI while continuing to record vocals in broom cupboards under the stairs. Spending 9-5 managing their own careers without agents or labels, and heading down the studio in the evening to write scores for a project with a symphony orchestra. Collaborating with Orbital while championing songs from the folk club floor singers of the North East and re-presenting them to anyone who wants to listen. You'll find them played by the folk show on BBC Radio 2, but equally by cutting edge BBC6 Music, Radio 3 and Radio 1 DJs. You might find them on the cover of a folk magazine like fRoots or in the pages of NME. Definable only by their restless eccentricity, there are no easy one-liners to capture who or what The Unthanks are, or much point in guessing what they'll do next.
This goes part way to explaining the depth and breadth of their many notable fans - Martin Freeman, Elvis Costello, Robert Wyatt, Ben Folds, Ryan Adams, Rosanne Cash, Dawn French, Paul Morley, Al Murray, Ewan McGregor and Nick Hornby, to name a few.
Colin Firth was recently added to that list when he personally invited The Unthanks to perform at a theatre show alongside himself, Keira Knightley, Sir Ben Kingsley, Sir Ian McKlellan, Kelly MacDonald and Laura Marling. The televised event called The People Speak was a celebration of those in history who have spoken up and made a difference, as a reminder in our times of apathy that we all have a voice.
Their is a socially conscious heart to much of The Unthanks' work. The Unthanks see folk music less as a style of music and more as a oral history that offers perspective on our own time. Their approach to storytelling straddles the complex relationship between modernism and learning from the past. Staunch traditionalism and sonic adventure may seem like polar opposites, yet they are easy bedfellows in the gentle hands of The Unthanks.
Nominated for the Mercury Music Prize and the only British folk representation in The Guardian's and Uncut's best albums of last decade (worldwide, all genres), The Unthanks is a family affair for Tyneside sisters Rachel and Becky Unthank, with Rachel married to pianist, producer, arranger and composer, Adrian McNally. Even though McNally has scored symphony scale arrangements for The Unthanks, all three are musically untrained, and put their collective musical vocabulary down to the music they grew up listening to, rather than playing, for which both McNally and the Unthank sisters have parents to thank for. Using the traditional and folk music of the North East of England as a starting point, the influence of Steve Reich, Miles Davis, Sufjan Stevens, Robert Wyatt, Antony & The Johnsons, King Crimson and Tom Waits can be heard in the band's 7 albums to date.
In 2012, The Unthanks released 3 project albums in 12 months, under the banner 'Diversions' - a reimagining of the work of Robert Wyatt and Antony Hegarty, an orchestral scale adventure with National Champions Brighouse and Rastrick Brass Band, and a live soundtrack to a film about the shipbuilding industry. Since then, they have been quietly working on an ambitious 8th album, due in early 2015, but have also found time to collaborate with Orbital, Sting, Adrian Utley (Portishead), Martin Green (Lau), Martin Hayes, The Voice Squad, Charles Hazlewood, The Moulettes and German composer Werner Cee.